Zootechnical Marketing
Market research deals with the study and analysis of consumer behavior and decision-making processes: they are therefore a valuable source of information for those who produce goods or services and have to take marketing decisions related to the sale or development of commercial networks.

The Italian livestock market is characterized by a considerable amount of raw data derived from both public (ISMEA, ISTAT, EUROSTAT etc.) and private entities (ASSALZOO and others): these data can be used to obtain information on the actual geographical consistency of the livestock but they do not give access to the commercial distribution of the Animal Feed & Premix sectors. Many changes occurred within the industry over the past few years.How many any farms are there in Italy?

What are the areas with the highest concentration of animals
How many and what are the companies that produce feed or premixes?
Is the Italian market a saturated market or are there spaces for growth?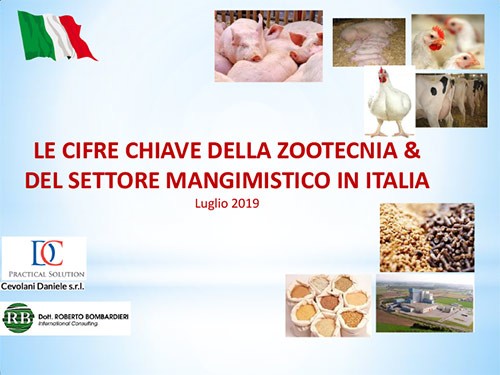 To answer these questions, we prepared an in-depth analysis of the Zootechnical Sector entitled: "KEY FIGURES OF ANIMAL HUSBANDRY & FEED SECTOR IN ITALY
(Edition 2019) of which we report the topics in over 160 pages of data


Part 1: The Italian Zootechnical livestock: general considerations
The Italian Zootechnical livestock: consistency and geographical location
The Italian poultry sector
The Italian pig sector
The Italian dairy cow sector
The Italian beef cattle sector
The Italian buffalo sector
The Italian sheep and goat sector
The Italian fish breeding sector
The dogs and cats sector in Italy and in the rest of the world

Part 2: Overview of the European and world animal feed sector

World production of compound feeds
World ranking of compound feed producers
European production of compound feeds
European leader in compound feed producers
Part 3: Overview of the Italian feed industry
Complete and complementary feed production: statistics and general observations
Production of compound feeds divided by species
Complete and complementary feed production plants: location and potential
Economic value of the production of the main Italian feed producers
Production volume of the main Italian feed producers
Free market and integrated market of the main Italian feed producers
Main feed producers in Italy: volumes and turnover
Biological feed: quantities produced and main producers
GMO free feed
Main premixes producers in Italy
** The dossier is continuously updated thanks to the precious collaboration of experts and consultants as well as the immediate entry of new data and official tables.

It is also available in English and French languages.
The research can be purchased both in the full version and in the separate single sections.